Tillow Barn is a discreet and relaxing haven amongst fields, yet is easily accessible from both Reigate and Dorking via the A25 and through picturesque Brockham village..
Tillow Barn
Tillow Barn is set in the beautiful countryside of the Surrey Hills, just south of the village of Brockham and approximately 10-15 minutes drive from both Reigate and Dorking. There is private parking immediately outside the clinic and easy access to the treatment rooms, all of which are on the ground floor.
Roothill Lane
Brockham
Betchworth
RH3 7AS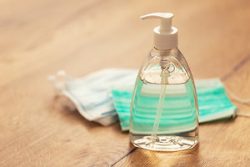 Our Covid protocols in light of the lifting of legal restrictions on 19th July 2021
Virtually all Covid legal restrictions will be lifted on 19th July 2021. In the light of this we have reassessed our infection control procedures, our requirements of visitors to the clinic and the rationale behind all of these.
First and foremost, as healthcare professionals our prime motivation is the health of our patients. As such, due to current case
numbers and the continued risk of infection, we will continue to follow the protocols that we have followed throughout the pandemic. Both practitioners and patients will therefore see no change to the way the clinic is currently running.
Please note that we will continue to require patients to wear a mask for any close contact treatments where social distancing is not possible.
We are constantly reviewing and following the advice from Government and NHS England to reduce the risk to everyone visiting the clinic. Robust safety procedures and additional cleaning & infection control protocols have been implemented, but it is important to bear in mind that there are no known means to guarantee zero risk of transmission.
In order to ensure that we provide a safe environment and can safely treat you, we ask that all visitors to the clinic adhere to the following:
Please bring a mask or cloth face covering with you, in case your practitioner needs to be closer to you during treatment than social distancing allows

Wait in your car for your practitioner to collect you

Sanitise your hands once you leave your car and before you enter the clinic building
Do not come to the clinic if you have Covid-19 symptoms
Thank you for taking care
For up to date information on Covid-19 visit:
"Your beautiful clinic and kind nature instantly made me relax, you are an angel."
"I'm sweat free! Thank you "
"I can't put into words how amazing the treatments are at Faceworks Aesthetics!!"
"I just wanted to say thank you! My face looks great – really natural"
"You make me feel so young!"
"I love love love my new lips. They look so natural – THANK YOU!"
"Your beautiful clinic and kind nature instantly made me relax. You are an angel."
"Your girls are adorable and very professional. You made me feel so welcome and at ease."
"I loved coming to visit you today at Tillow Barn, what a perfect peaceful set up you have. Thanks Amy x"
"You have injected me with happiness!"
"My face looks amazing! Everyone says how great I'm looking – you are brilliant!"
"Thank you for waving your magic wand again"
"Thank you so much Jane… you'll never know how much I appreciate what you do! You make me feel so much better in myself – there's a big difference already! Thank you so, so much."
"I just wanted to say yet another massive thank you. My face looks fab and if it stays like this I will be an extremely happy bunny!"
"OMG – That stuff [Profhilo] is amazing! I can really see a difference.  Thank you so much."
"I want to say a big, big thank you. You always make me feel better in myself and help my confidence. Thank you! xx"
Thank you for all you have done for me! you are an Angel x
I always feel so positive when I have seen you
After my Meso I felt like I was on glowing. Thank you for making me feel fabulous!
"Thank you for making me feel so at ease xxx"
"Credits: Face lift by Jane! Thank you so much xxx"
"As per usual, I love my face. You're a star!"
"It was lovely to see you again Jane. My Profhilo is fab! Thank you xxx"
"PRP has given my cheeks that extra cheekiness! Thanks x"
"I'm so happy with my mouth area now. That teeny bit of botox worked miracles!"
"You really cheered me up with my sprinkles! You're a star!"
"Just want to say thanks for what we did yesterday! It looks really good and very natural."
"You really were my little ray of sunshine this morning!"
"This lady is a miracle worker"